Ultimate 3 Day Porto Itinerary
Porto makes for a perfect long weekend getaway or a stop on your Portugal trip. It has a charming old town and it's close to the beach. With this 3 day Porto itinerary, you'll be able to experience the best Porto and its surroundings have to offer.
I spent one whole month in Porto and I put the best things of my time there in this ultimate 3 day Porto itinerary.
General Information about Porto
Porto is the second biggest city in Portugal, it's located on the Douro River. The city centre of Porto is a UNESCO World Heritage Site since it's one of the oldest in Europe.
Origin of the Name
In Portuguese the city is actually called o Porto and not just Porto, that's why sometimes you can find the name Oporto in English as well. It literally just means port or harbour.
You notice the importance of Porto's role in founding the country in the country's name. Portugal is derived from Porto. Porto also gave its name to the famous port wine. Visiting a port cellar is on the to-do list of many tourists who come to Porto.
Getting There and Getting Around
If you arrive from outside Porto, you'll probably arrive at the Francisco Sá Carneiro Airport just outside Porto. This international airport is connected to the city centre by underground. If you're travelling to Porto from a different Portuguese city, I would recommend the high-speed train. The big train station Campanha is also connected to the city centre by underground.
Once you're in the city centre of Porto, everything is easily accessible by foot. So I personally don't think it's worth getting a 24-hour public transport ticket. I just love walking around in a new city, that way you get to see more of the atmosphere of it.
Now let's get started with this ultimate 3 day Porto itinerary.
Day 1: Explore Porto
The first day of this 3 day Porto itinerary is gonna be very action-packed. We're gonna pack all the best things to do in Porto into that first day, so we can relax at the beach the next day. But that's not as difficult as it sounds, because everything in Porto is within close walking distance.
Visit the Magical Bookshop Livraria Lello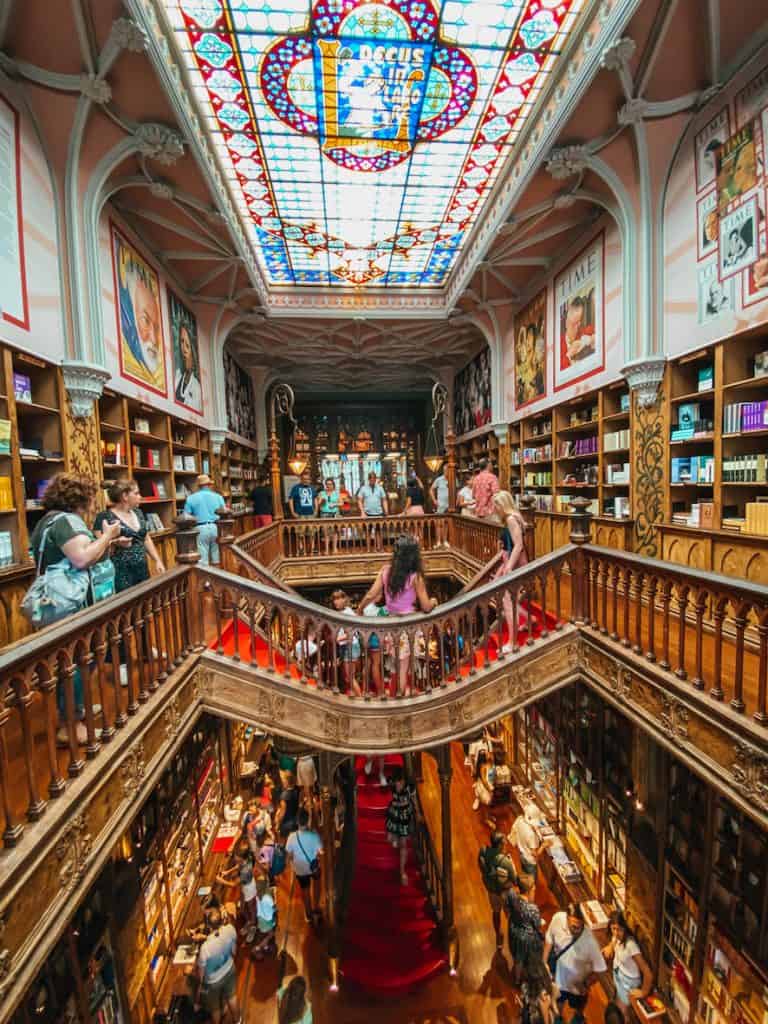 There was a rumour that J.K. Rowling was inspired by Livraria Lello, this turns out to be wrong, but it's still a magical bookstore. It is on the Lonely Planet's "The world's greatest bookshops" list and described as "one of the world's most stunning shops – perhaps of any kind". So it's a must for any 3 day Porto itinerary.
You have to pay to get into it, but your entrance fee is transferred to a voucher for the shop. I recommend buying the ticket online at the official Livraria Lello webpage before going, so you don't have to queue up that long. You can get a special edition of a classic novel as a souvenir, they have them in a few different languages.
Go on Top of Clerigos Tower
Very close to the Livraria Lello you can find the Clerigos Church and Tower. The tower is one of the most recognisable symbols of Porto and can be seen from many locations in the city. You can climb the 75-metre-high tower to get a great view of the city. I really liked the plaques on top which compare the Clerigos Tower to other towers and which point and name the sight you can see.
Admire Some Azulejos
Azulejos are the traditional Portuguese and Spanish tin-glazed ceramic tiles. You can find them in many different places, most noticeable on the facade of ordinary houses or churches. The most noticeable churches with Azulejos are the Chapel of Souls in the famous shopping street Rua Santa Catarina, or the Igreja do Carmo. Both those churches are decorated with traditional blue tiles. In the Ribeira neighbourhood among other places, you can find them in all kinds of colours.
Take a Picture with the PORTO Sign
I love a good sign of a city's name. The Porto sign is located just outside the city hall. You might need to queue up a bit until it is your turn to take a picture but I'm sure you'll be able to find time for it during this 3 day Porto itinerary. The good thing about it being a popular photo spot is that there will be other people there who can take a picture of you.
Stroll Around the Ribeira Neighbourhood
The Ribeira neighbourhood is right next to the Douro River and the iconic Ponte Luis I bridge. You can stroll next to the Douro River, and admire the colourful houses and small alleys at Ribeira. To get that classic shot of Porto, cross the bridge to the other side.
The double-decker bridge Ponte Luis I is a UNESCO World Heritage Site and a Portuguese National Monument. At its construction in 1886, it was the longest bridge of its kind. Now the metro crosses the bridge at the top level and cars at the bottom level, you can excess both levels on foot.
Porto Cathedral
The cathedral in Porto is one of the most important Romanesque monuments in the city. It's located right next to the top level of Ponte Luis I. I personally didn't go into the cathedral but it's supposed to be nice inside. But even just walking up to the cathedral is very nice and it's close to the city centre anyway.
Enjoy the Sunset from Gaia
Cross the famous bridge Ponte Luis 1 and you'll be in the city of Vila Nova de Gaia. The city is known for its many port wine cellars. So if you want to take a port wine tour with wine tasting you can choose from many different wine companies. From Vila Nova de Gaia, or just Gaia, you can also watch a beautiful sunset. The park Jardim do Morro is a great place for it. It can get very crowded for sunset, so arrive early enough if you want a good seat. There are even pop-up stalls next to the park that sell drinks and popcorn for sunset watchers.
Go for Some Delicious Vegan Food
End the first day of the 3 day Porto itinerary with some good food. Porto is absolutely amazing for vegan food, check out all the vegan restaurants in Porto we tried. In this article, you can also find out my favourite vegan restaurant in Porto.
If you want to try a traditional Portuguese dish, which originated in Porto, try a francesinha. It's a sandwich with cheese on top and then some kind of hot tomato sauce gets poured over it. You can see the signs for it everywhere. Most vegan restaurants in Porto offer a vegan version of it, and even some non-vegan restaurants have a vegan version on the menu.
The second very Portuguese dish is the pastry, Pastel de Nata. You can find this custard-filled pastry everywhere, just check if they have vegan versions. I found the cheapest vegan Pastel de Nata at Pastelaria Tupi. This bakery has a clearly labelled vegan section with different kinds of pastries.
Day 2: Relax at the Beach
On the second day of our 3 day Porto itinerary we'll go to the beach. There are quite a few beautiful beaches near Porto. If you're only in Porto for 3 days, I would recommend a beach in Foz. Foz is the name of the area where the Douro River enters the Atlantic Ocean. It's the shortest distance to a beach from Porto and the way you can get there is a sight on its own.
Take the Historic Tram to the Beach
A ride in the historic tram in Porto is on many to-do lists, but instead of aimlessly riding the tram just for the sake of it, why not take it to get to the beach? The tram sets off at Infante, close to Bolsa Palace. You need to buy a special ticket for the historic tram in the tram itself, the general public transport ticket for Porto is not valid. I recommend getting a one-way ticket, so you are more flexible with getting back by bus or underground. Ride the tram until the final stop and enjoy the view on the way.
Find Your Favourite Beach
Once you get out of the historic tram, keep walking straight until you reach the ocean. You can check out the lighthouse at the end of the pier or find your favourite spot to lie down right away. There's one beach after another if you walk north, just find the one you like best. In the course of the day, I would recommend making your way all the way to Matosinhos. You'll walk past the picturesque Pérgola da Foz and the Fort of Leça da Palmeira. There you can enjoy a lovely sunset and go for some vegan food in Matosinhos afterwards.
Day 3: Go for a Day Trip
On the third day of our 3 day Porto itinerary will take a day trip. Porto has the perfect location for many day trips. You can just choose the one which fits best for you. Most day trips can be reached by the very cheap, urban train.
Set Off at the Beautiful São Bento Train Station
For most day trips from Porto, you can catch the urban train from São Bento train station. This train station is on almost every what-to-see in Porto list because of the beautiful Azulejos inside. When I entered the train station the first time, I immediately thought how cool would it be to actually catch a train from there. And then I did catch a train from there, it was very cool 😉
Pick the Best Day Trip for You
There are numerous day trip opportunities from Porto to pick from. I did 4 different day trips so you can just pick the one that seems most suited to your interests for your last day of the 3 day Porto itinerary.
Guimarães is considered to be the birthplace of Portugal since Portugal's first king was born there. You can visit the historic castle and palace. Or stroll through the city centre, which is a UNESCO World Heritage Site. Find out more about my day trip to Guimarães.
Did you know that Portugal has its own version of Venice? I didn't know that before I visited. In Aveiro, you can find multiple canals and you can take a boat ride on a gondola looking boat. After you stroll through the city, you can marvel at the colourful striped houses in Costa Nova and relax at the beach. Find out if Aveiro is worth visiting.
One of the oldest universities in the world is located in Coimbra, it's a UNESCO world heritage site. You can visit one of the most beautiful libraries, I've ever seen, there. The first king of Portugal is buried in Coimbra and you can see his tomb. The only downside is, that it's the longest train journey and you cannot set off at São Bento station. Read my full description of my day trip to Coimbra.
The main sight in Braga is the pilgrimage site Bom Jesus do Monte. This sanctuary is a UNESCO world heritage site. And the stairs leading up to this church make for a spectacular view. Find out what else you can see and do in Braga.
Other things to do in Portugal
If you have more time to explore Portugal, you can visit Portugal's capital Lisbon. You can explore Lisbon for 3 days or head even further south and discover the beautiful Algarve region with this comprehensive Algarve itinerary.
Another great way to spend more time near Porto is in a Surf and Yoga retreat. You can learn to surf and do yoga in the same retreat.
FAQ about a 3 day Porto itinerary
Is 3 days too long in Porto?
I think 3 days is the ideal amount of time to visit Porto. You can get everything of interest in Porto and even one day trip into your 3 day Porto itinerary.
How many days is ideal for Porto?
If you want to explore Porto and maybe do one day trip, which is highly recommended, 3 days are ideal. But if you just want to see Porto 2 days will suffice.
Is Porto less touristy than Lisbon?
In general, Porto is considered less touristy than Lisbon, but don't let that fool you. There are a lot of tourists in Porto and since the old part of Porto is quite compressed, there are a lot of people in the same area.
Is Porto or Lisbon more walkable?
Since Porto is smaller than Lisbon it's also more walkable. During my visit to Porto, I always walked everywhere, I only took public transport to get to the beach.
Is Porto an expensive city?
I would say Porto is average expensive compared to other European cities. You'll find many more expensive cities but also many cheaper cities.