Veganderlust contains affiliate links and is a member of the Amazon Services LLC Associates Program. If you make a purchase using one of these Amazon links, I may receive compensation at no extra cost to you.  For more info, see the Disclosure Policy.
Best Tips for Minimalist Toiletries for Travelling
I know a lot of women struggle with minimalist packing because of their toiletry bags. But no matter if you go on a short trip or a longer trip it's worth travelling with only minimalist toiletries.
As a minimalist packer, you can travel with just a carry-on bag, save yourself the hassle of a big suitcase, and save money by not checking in a bag (since most airlines charge extra for that). And you'll realise that having less stuff can be very liberating.
Keep on reading to get the best tips for minimalist toiletries or check out my ultimate minimalist packing list where I share what I pack for any trip in just a small bag.
Which bag to use for your minimalist toiletries
The best minimalist toiletry bag is probably the one you already have. You don't need to buy a new product to start your minimalist travel journey.
Just make sure it's a smaller bag otherwise you might be tempted to add more things than you need. I for one use a toiletry bag which came with a toiletry gift set I got years ago.
The same goes for a backpack or suitcase, by the way, the more space you have the more things you'll bring, even if you don't need everything. You can check out my new backpack, which is a great first minimalist packing backpack.
If you do decide to get a new toiletry bag I recommend getting one with high quality so it lasts for years to come and you don't have to replace it again soon after.
I found that the best toiletry bags are see-through, that way you might not need a separate plastic bag for your liquids during the security check at the airport. At the very least all your items are easier to find.
A positive side effect of having all your luggage as carry-on is that you have everything you need on a long-haul flight within easy reach.
How do you minimize toiletries for travel?
The two best ways to minimize your toiletries are by getting rid of unnecessary items and by getting the most out of the items you do have.
The first step to minimizing toiletries is to pay close attention to the things you actually use in your daily routine. If you have products you don't use or almost never use, you don't need them at all.
The second step to minimizing your toiletry items is by checking if you have different products with (almost) the same functionality. You can reduce those, so you only have one product for one purpose.
A way to minimize your toiletries even further is by checking if you can use one toiletry item for multiple purposes. For example, I have one soap bar for washing my hands, my body and my face.
And once you realise how freeing it can be to minimize your toiletries, you might even want to start taking steps towards a minimalist lifestyle in your everyday life as well.
Get your minimalist packing checklist for free!
Why you should switch to solid toiletries
The biggest problem with carry-on travel is liquids since you're only allowed a very limited amount when you travel by plane. Instead of getting travel size toiletries or refilling your body wash or full-sized shampoos into travel-sized containers, I recommend getting solid toiletries.
Solid toiletries like shampoo bars, soap bars or body butter last you a very long time compared to liquid toiletries and especially compared to travel size toiletries. So solid toiletries are the perfect minimalist toiletries even for digital nomads who travel all the time.
Solid toiletries are also more eco-friendly since you save on plastic bottles. And we all know that there's way too much plastic trash already.
When you first switch to solid toiletries you might have a trial-and-error phase where you need to figure out which products are suited to your hair and body.
The liquid restriction is also in place for water bottles, so I always bring a reusable water bottle on the plane which I only fill up after the security check.
Packing list for minimalist toiletries
In the past year, I've been on longer trips on a regular basis and those are the minimalist toiletries I bring. You'll notice that I don't have a makeup bag, as a matter of fact I don't use any makeup. You can read about that a bit further down in this post.
Besides packing minimalist toiletries I also try to use eco-friendly bathroom products. This means for one to use the items you already have and if you do need to replace something make sure it's made from good materials.
Here's my minimalist toiletries packing list:
Thoothpaste
Shampoo bar
Soap bar
Hairbrush
Face lotion
Body butter
Lip balm
Sunscreen
Reusable swab
Razor
Nailclippers
Nail file
Tweezers
As you can see there are only travel essentials in my toiletry kit. Most of those minimalist travel toiletries items are very self-explanatory.
So I'm just gonna go into more detail about the reusable swab but if you have any questions about the other items don't hesitate to contact me about them.
A reusable swab looks kind of like a cotton swab but it's made out of recyclable plastic. You can reuse them countless times and wash them after use.
It's an essential item for a low-waste bathroom but it's also perfect for minimalist packing since you only bring one swab and you can use it for months, or even years.
There are also some which look like a little stick with a string loop at the end. I've tried them as well but I prefer the ones out of plastic.
If you bring an electric toothbrush you have to put it in your carry-on bag anyway since most toothbrushes have lithium batteries which are not allowed in checked luggage.
Benefits of wearing no makeup
Wearing no makeup is of course great for minimalist packing since you don't need that many toiletry products but it also has positive effects on your skin. The natural balance of your skin gets restored and in the long run, it makes acne flaring up less likely.
Some other benefits of wearing no makeup are that you save money since you're not spending it on makeup products and you need less time for your daily bathroom routine.
My bathroom morning routine is done in about 5 minutes, I brush my teeth, wash my face, put lotion on and brush my hair.
I know it can be scary at first to not put makeup on but I recommend trying it out on holiday. There are (usually) no people who only know you with makeup and who might notice the difference in your appearance.
It's a great place to discover your natural beauty and when you get back from your holiday you'll radiate confidence.
Final thoughts: Minimalist packing
Once your minimalist toiletries are covered, it's time to minimalize your other travel items. I created an ultimate minimalist packing list to help you along on this next step towards becoming a minimalist packer.
If you prefer a concrete checklist for minimalist packing, I got you covered there as well. You can get a free minimalist packing checklist for every season here: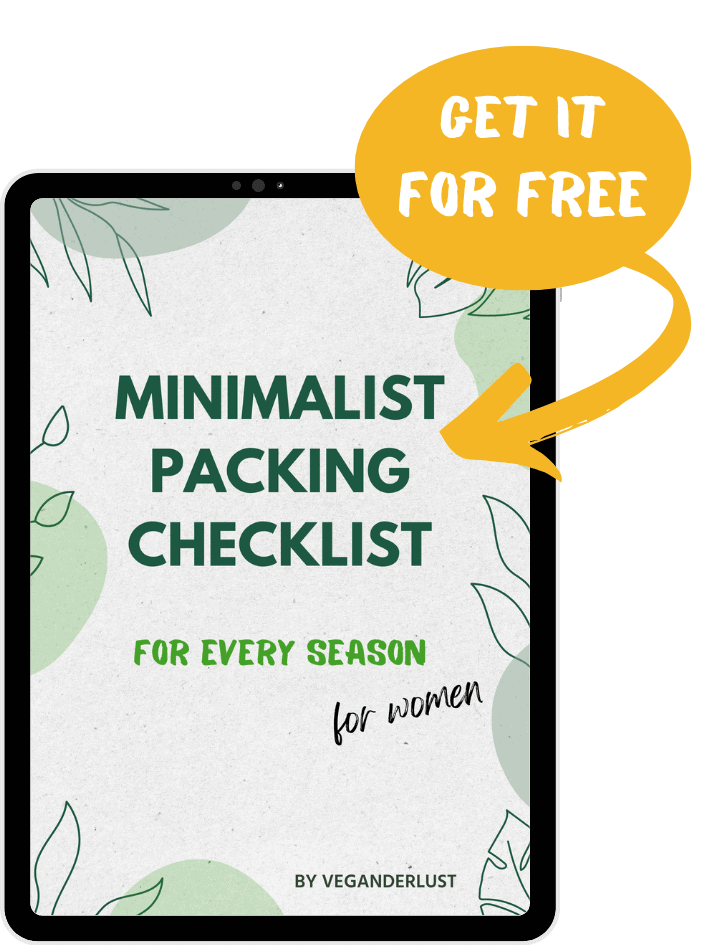 I used the tips I share in this article to travel for two months to Malaysia, New Zealand, Australia and Fiji with just a personal item bag.
Read More:
Pin it for later: